With all of the construction going on throughout the state, some of our roadways may be torturous to our tires.  Take a moment to learn how one of Centennial Leasing & Sales' trusted partners, Curbside Tire Club is changing the tire game and bringing you convenience to a sometimes overwhelming situation.
A message from Curbside Tire Club: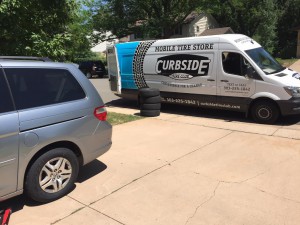 We're changing the tire game & you win!   We sell new tires and we install tires – anywhere!
We'll bring our state-of-the-art, Mobile Tire shop contained in a Mercedes Benz Sprinter Van, to your home, office, gym, or favorite mall etc. and install and balance your tires there.
Convenience for a Change!
In addition to saving time, our customers are saving a lot of money! Because we have little overhead costs, we will match or beat the big traditional tire stores' price.
Here's how it works in four easy steps:
Buy Tires– Simply text us a picture of your existing tire, and our tire experts will respond within 15  minutes.  We'll recommend a great set of tires for you!  Easier yet – just call or email us!Schedule your tire installation at your home, office, anywhere, with our online booking tool.  Our mobile tire store will come to YOU, at a convenient time for YOU.  Same day service available.3. Install Tires:  Plan on an hour to properly install your tires while you shop, work or relax.4. Join the Club!  We come back every 3 months for tire pressure checks, every 6 months for rotation and balance, and provide nationwide tire hazard coverage. Curbside Tire Club Membership is included free for one year, with your tire purchase.
Thinking towards this fall?  Curbside Tire Club DOES SNOW TIRE CHANGES AND WE OFFER A SNOW/SUMMER TIRE STORAGE PROGRAM!
See our website for details for more information on new tire purchase and our snow tire program.  www.curbsidetireclub.com